2K today unveiled the details and changes coming to MyNBA* and The W* in NBA 2K24 for PlayStation® 5 (PS5™) and Xbox Series X|S. MyNBA welcomes fans to the new LeBron MyNBA Era and introduces a streamlined option to get in the game faster with MyNBA Lite. In addition, new updates in The W allow players even more control as they pick their path to WNBA greatness.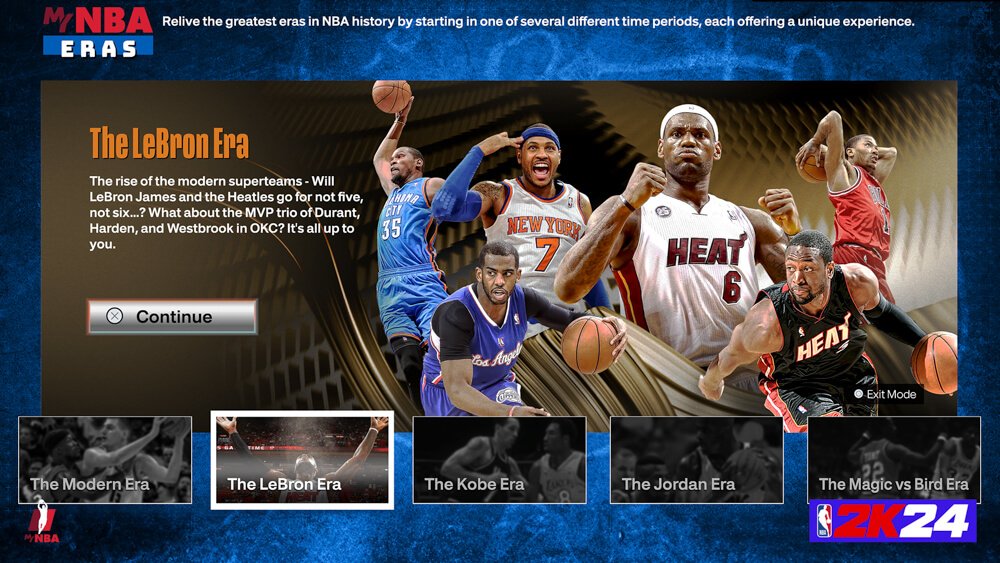 MyNBA Welcomes a New Era
Last year, MyNBA debuted Eras, allowing players to experience some of the most iconic eras in basketball history. This year, players can rewrite history and step onto the court in the LeBron Era, where they can play through the 2010s and join forces with the all-time leading scorer in NBA history, LeBron James.
"We're excited for fans of MyNBA to play the all-new experiences this game has to offer this year," said Erick Boenisch, VP of NBA Development at 2K and Visual Concepts. "MyNBA Eras continues to put players in control of the NBA's future and past, now including a vital part of NBA history with the LeBron Era. We also made the mode more accessible with MyNBA Lite, making it quicker and easier to jump into MyNBA than ever before."
MyNBA Lite: Empowering new players to get in the game faster, MyNBA Lite delivers a pick-up-and-play approach to the beloved franchise mode. Casual players will find the streamlined experience more approachable and intuitive, providing the perfect entry point for those looking to explore MyNBA. MyNBA Lite gives players the freedom and flexibility to quickly make the moves they need to win a title, such as making trades without CBA restrictions, extending contracts, having visibility on upcoming draft classes and more.
The LeBron Era: Players can relive or rewrite the 2010s basketball era that saw LeBron James join forces with Dwyane Wade and Chris Bosh to create the 'Heatles' superteam. As fans progress from the 2010s into the Modern Era, select players will undergo an automatic aging transformation, a new feature that is present in all of the historic Eras.
2023 Collective Bargaining Agreement: To account for the new CBA that the NBA and the National Basketball Players Association agreed on this past year, NBA 2K24 is implementing new features like a luxury tax brackets scale with the salary cap, cap smoothing, increased value from the Mid-Level Exceptions (MLEs) and more.
MyLEAGUE returns in NBA 2K24 on PlayStation 4, Xbox One, Nintendo Switch and PC. Players can make executive decisions as a General Manager and lead their franchise to championship glory or elevate the league's status as the Commissioner of the NBA.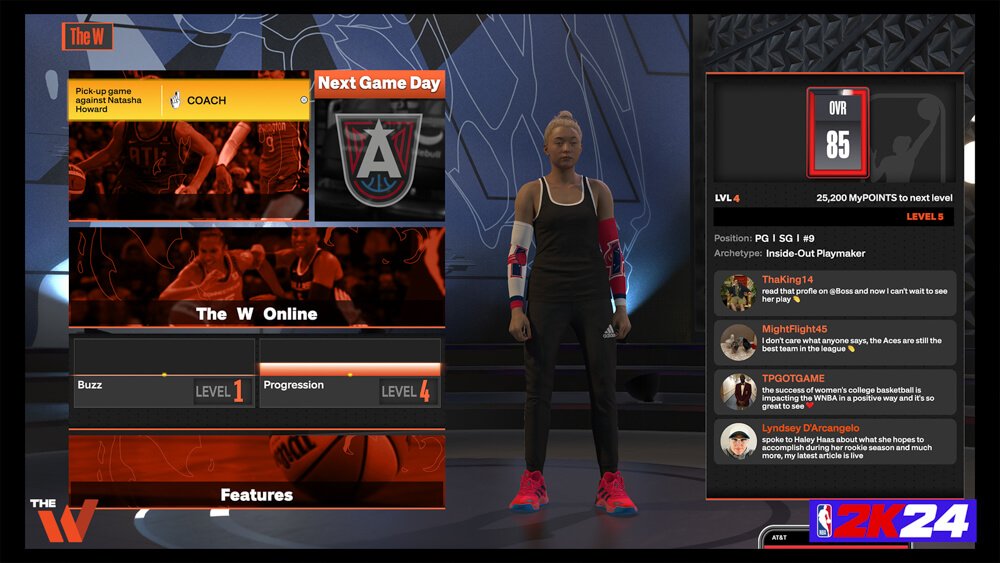 Pursue Greatness in The W
The W also comes back in NBA 2K24 for PS5 and Xbox Series X|S. This year, The W introduces new ways for players to control how their WNBA unfolds, compete in casual 3v3 street games, chase new prizes and more.
"Elevating The W in NBA 2K is always an exciting part of our work every year," said Felicia Steenhouse, Senior Producer at Visual Concepts. "We look forward to seeing how players choose to unfold their career in The W while pursuing greatness on the court."
The W will also add a variety of new features for the women's game, including:
Choose Your Path: Players can choose their path towards WNBA stardom with two options: to enter the league as a college hoops sensation or an up-and-coming player with valuable international experience. It's up to the player to decide how their WNBA career unfolds;
In Pursuit of Greatness: An all-new feature – "In Pursuit of Greatness" – will be added to The W this year, where players can be pitted against some of the WNBA's most gifted stars to see how they compare to their rival;
Pick-Up Games: Instead of last year's Contact Challenges, this year, players can earn exciting badge perks by competing against a veteran from their own team, a star player they're in a position battle with, and historic legends;
The W Rewards: New rewards and content will be available in The W and The W Online, earned by winning games and completing challenges to unlock updated 2K Breakthrough Skins, MyTEAM Jersey Cards, and player-enhancing MyTEAM Shoe Cards and more exciting rewards.
All twelve WNBA teams return to PLAY NOW in NBA 2K24 on PlayStation 5, PlayStation 4, Xbox Series X|S, Xbox One, Nintendo Switch and PC.
For full details on the new updates coming to NBA 2K24 for PlayStation 5 and Xbox Series X|S consoles, check out the latest MyNBA and The W Courtside Reports. Stay tuned for additional information in the coming weeks to reveal even more of what's new in NBA 2K24.
NBA 2K24 is currently scheduled for release on September 8 for PlayStation 5 and PlayStation 4, Xbox Series X|S and Xbox One, Nintendo Switch, and PC platforms. For more information, please visit the NBA 2K24 official website.
Developed by Visual Concepts, NBA 2K24 is rated E for Everyone from the ESRB.
Follow NBA 2K24 on TikTok, Instagram, Twitter, YouTube, and Facebook for the latest news.