Modern smartphones have evolved to such a degree that entry-level devices are capable of juggling photography, internet browsing, and gaming with ease. One such device is the new Huawei nova Y61, equipped with a 50MP AI Triple Camera, 5000mAH battery, and 6GB of real physical RAM.
It's worth pointing out the "real, physical" aspect of the nova Y61's RAM, as it enables the phone to be the fastest in its segment. Read on to find out why such a spec creates incredible value, especially for its price range.
When apps get bigger
Top apps for social media, streaming, and games tend to be on the bigger side these days, which is understandable given just how much data they store and the functions they carry out. This requires smartphones to have plenty of RAM, so users aren't waiting around when launching apps or switching between them quickly. Most phones in the segment come with 4GB RAM as standard.
This can prove challenging for entry-level to midrange-priced devices, as adding physical RAM can drive the cost up to comparable flagship levels.
Virtual vs. physical RAM
To remedy this, other phones resort to using virtual RAM to aid their multi-tasking capabilities. If a device only has 4GB RAM, it can use a portion of its physical storage (or ROM) to boost RAM by, say, another 4GB for a total of "8GB". It's not foolproof, though, as constant use of virtual RAM can reduce the ROM's lifespan in the long run.
The Huawei nova Y61 has actual 6GB of physical RAM, which means it's got more than enough memory to keep a dozen or so apps in the background. The such performance also extends to launching resource-heavy tasks like games, letting users get to the action in mere moments.
Speaking of games, the 6GB of RAM on the nova Y61 enables even the newest games to run on higher graphics settings without stuttering. The phone can even switch seamlessly to other apps like social media without losing progress on the game.
Smart cameras and beefy endurance
Sweetening the deal on this tech-packed smartphone, the Huawei nova Y61 also comes with superb photography and endurance features. The 50MP AI Triple Camera on the rear produces incredible stills and video, allowing you to take high-res photographs with crystal precise details and the ideal brightness. On the other hand, the 5000mAh battery with 22.5W SuperCharge keeps the phone chugging for more than a day. The 5000mAh battery can support fuss-free heavy use: 9.5 hours of gaming, 25 hours of phone calls, 13.5 hours of web surfing, and 13.3 hours of video streaming.
From its most practical features, like its camera technology, to its exquisite appearance, long battery life, fast charging, smooth user experience, and reliable quality, the HUAWEI nova Y61 builds a user experience that fuses technology with fashion.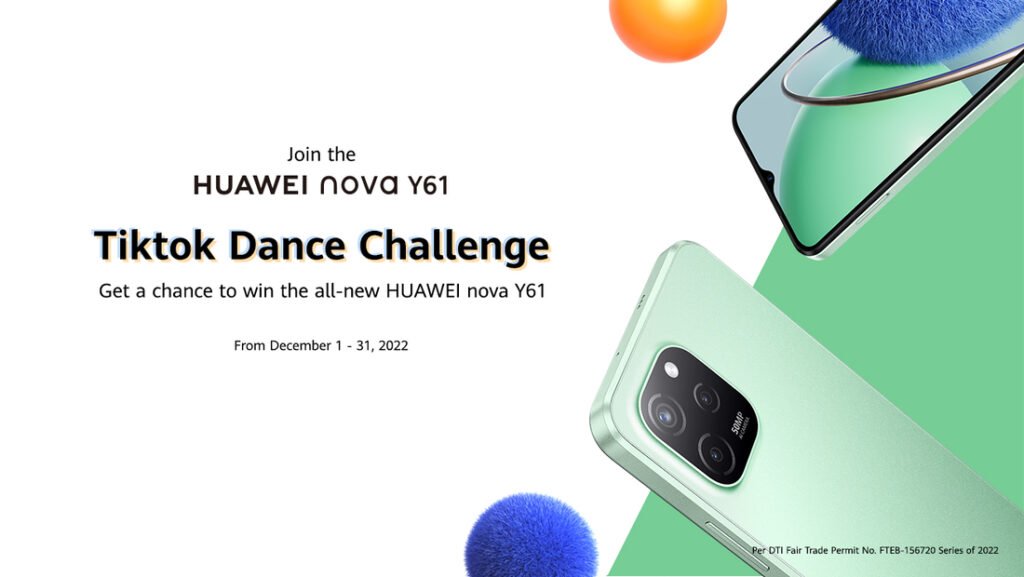 #HUAWEInovaY61PH Dance Challenge on TikTok!
Join the HUAWEI nova Y61 TikTok Dance Challenge and WIN your nova Y61! Show off your #HyperPerformance dance moves on the #HUAWEInovaY61PH Dance Challenge by following these easy steps:
Step 1: Dance to the beat of the HUAWEI nova Y61 Song. Use this sound https://vt.tiktok.com/ZS8RFNLBy/
Step 2: Upload your entry on TikTok with the #HUAWEInovaY61PH #HyperPerformance. Don't forget to tag and follow us @huaweimobileph
Step 3: Register the link to your post.
Read more about it at: https://consumer.huawei.com/ph/community/details/topicId_184194/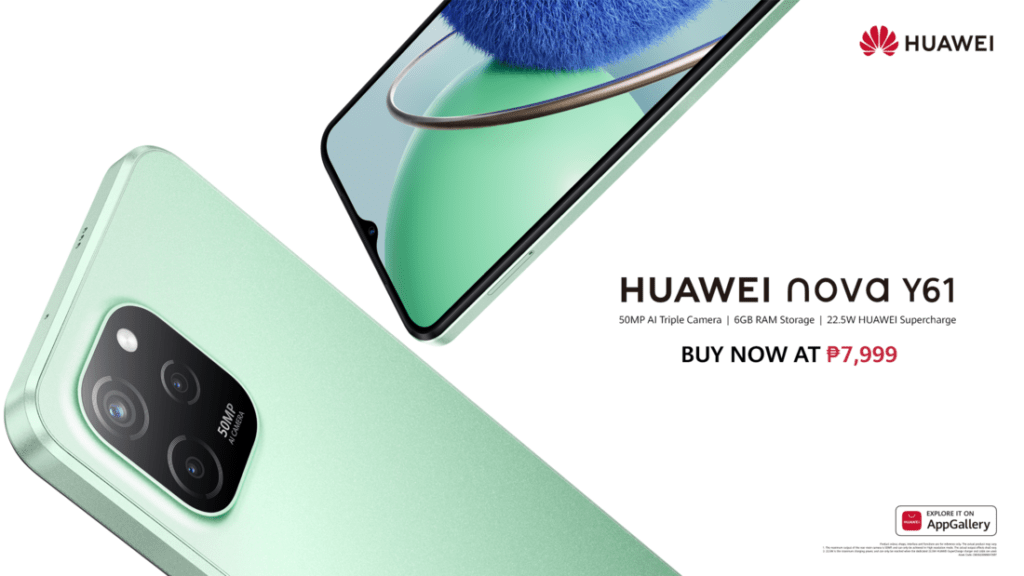 Purchase the new HUAWEI nova Y61 for only PHP 7,999 — and get a free mug worth PHP 999. Available now through offline and online HUAWEI Stores, authorized retail outlets, and leading e-commerce sites Shopee and Lazada.
Visit Huawei Philippines' official pages on Facebook, Twitter, and Instagram, to stay updated on the latest promos and devices.