SuperPark, a global multi-activity park from Finland, officially opens its first Philippine location at property giant Megaworld's 18.5-hectare Eastwood City township in Quezon City, bringing a plethora of fun, high-energy activities that people of all ages will enjoy.
The new SuperPark Philippines, to be operated by Megaworld's Megapark Philippines, Inc., features three major purpose-built themed zones that will offer 21 unique activities for guests of all ages.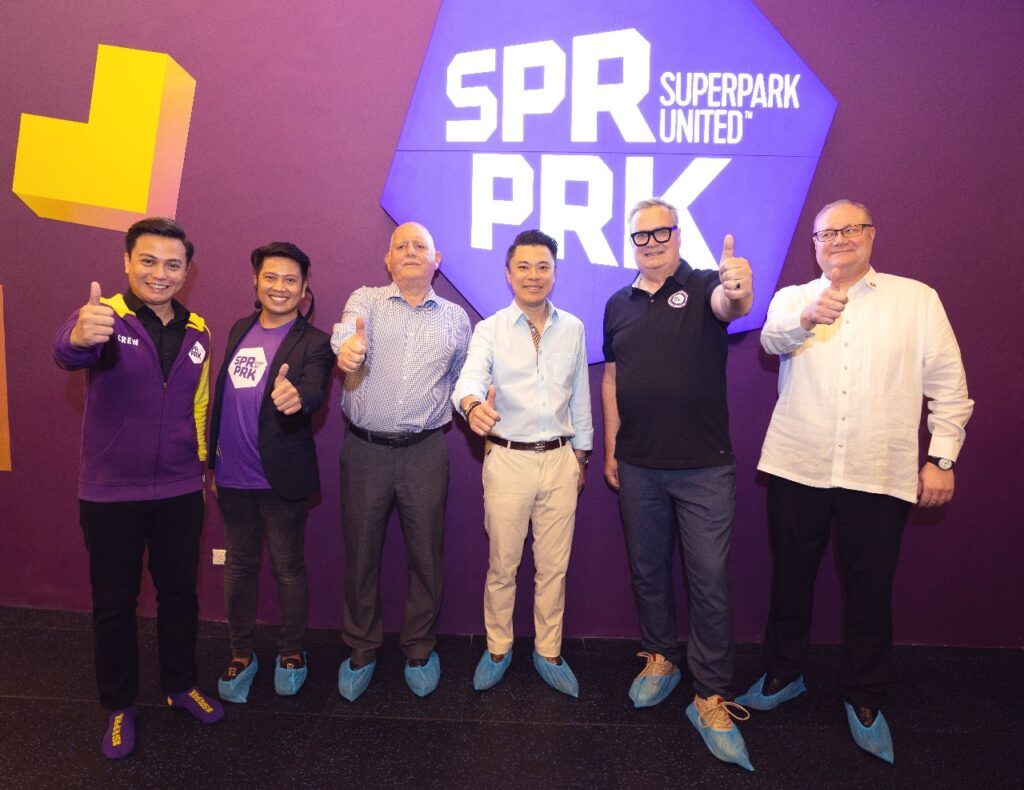 "We are thrilled to open the doors of SuperPark Philippines and share the joy and adventure that SuperPark is known for worldwide. Megaworld Lifestyle Malls has been instrumental in bringing this vision to life, representing our commitment to creating a world where everyone can experience the joy of movement and play," shared Juha Tanskanen, CEO of SuperPark LTD.
Located at the fourth level of Eastwood Mall, Superpark Philippines promises an unparalleled experience for thrill-seekers, sports enthusiasts, and families looking for a day of fun and adventure.
Here's a list of things guests can enjoy at the friendliest all-in-one indoor activity park in the world:
Adventure Area
Adventure Area promotes an active playstyle with visitors having the option to go for tapWall or Funball.
In tapWall, participants will be tested on their reaction speed, memory power, and coordination. Funball, meanwhile, promises to be a hit attraction for kids as it challenges their accuracy in shooting balls down pipes. What's more, there's also a Sliding Mountain for thrill-seekers looking to enjoy a short drop from the top.
Freestyle Hall
Guests can run around, jump on trampolines and airbags, enjoy mixed-reality games, or break a sweat on the digital climbing walls in the Freestyle Hall.
Guests can play on a professional-grade trampoline complete with a giant airbag, which is safer and more hygienic than the usual foam pit. They can also try the Valo Jump, which comes complete with digital sensors and allows guests to bounce with plenty of missions and never-ending fun.
Visitors can also enjoy the Bagjump and Augmented wall climbing for some Augmented Reality (AR) fun.
Game Arena
The Game Arena has the most number of activities among the three sections of SuperPark Philippines. The themed activities are fully augmented with digital capabilities in a perfect mix of physical and digital prowess. Among the anticipated attractions in the Game Arena include Superball, Skill Hoop, iWall, Cyclobeat, and ValoArena.
Sure to be underrated favorites are the likes of Street Game Court, Super Dash, and Super Pinball among others.
"We are excited to introduce a new dimension of entertainment to our valued patrons at Megaworld Lifestyle Malls. SuperPark Philippines is set to be a flagship attraction at Eastwood City, providing a dynamic space for Filipinos to bond, play, and create unforgettable memories," said Graham Coates, Head of Megaworld Lifestyle Malls.
Celebrate birthdays at SuperPark Philippines
SuperPark Philippines is not just any global indoor multi-activity park. It also offers ideal venues for gatherings such as parties, team-building activities, and more!
SuperPark strives to bring endless smiles, laughter, and "all-you-can-play" activities to all birthday heroes and their guests. Experienced in hosting over 2000 party celebrations in various sizes, SuperPark boasts of having lots of unique features that can satisfy even the most boisterous of people and parties. A minimum of 15 people are needed for such bookings with the friendliest indoor park.
Have a SUPER Jolly Christmas
SuperPark is one with the world to celebrate the most exciting season of the year – CHRISTMAS! During this time, super valuable bonding and get-together experiences happen among families and friends. While you cherish these moments together, SuperPark is ready to provide a perfect venue for your super Christmas parties.
Super Team Building
SuperPark is established by a global team of leaders. Leadership forms part of the core force why SuperPark continues to grow and expand internationally to bring the 'SuperParking Lifestyle' of joyful play, friendship, and better health.
That is why the park is uniquely facilitated for a SuperTeam Building. The activities also come with a SuperSquad Challenge where teams can decide the sequence of the tasks they wish to complete.
SuperPark Philippines tickets come in affordable packages with Junior Tickets available for Php 200 all days of the week. Adults who wish to partake in the fun activities have a weekday rate of Php 650 from Monday to Thursday, and a "Superday" rate of Php 750 from Friday to Sunday. Special grip socks that are needed inside the venue are sold at Php 75 per pair. The friendliest indoor activity park is also open daily during mall hours.
Guests can book tickets and prepare for all-out fun via the SuperPark website or pay over the counter upon arrival at the park's reception area.
Customers can also follow SuperPark on Facebook or Instagram @superparkph for more information and to avail of special promos.