The tallest Christmas tree in the Visayas region is a sight to behold, towering at 120 feet. And for the 22nd year in a row, M Lhuillier's Tree of Hope lights up the skyline of Cebu City with its festive glow.
For over two decades, M Lhuillier has brought joy and magic to the city of Cebu every Christmas season. What started as an act of volunteerism by Michel Lhuillier, M Lhuillier Chairman of the Board, in the year 2000 is now an iconic part of the holiday season – the Tree of Hope. The idea was inspired by his desire to do something special for his beloved city and give back to its people as a token of gratitude for their continuous support over the years.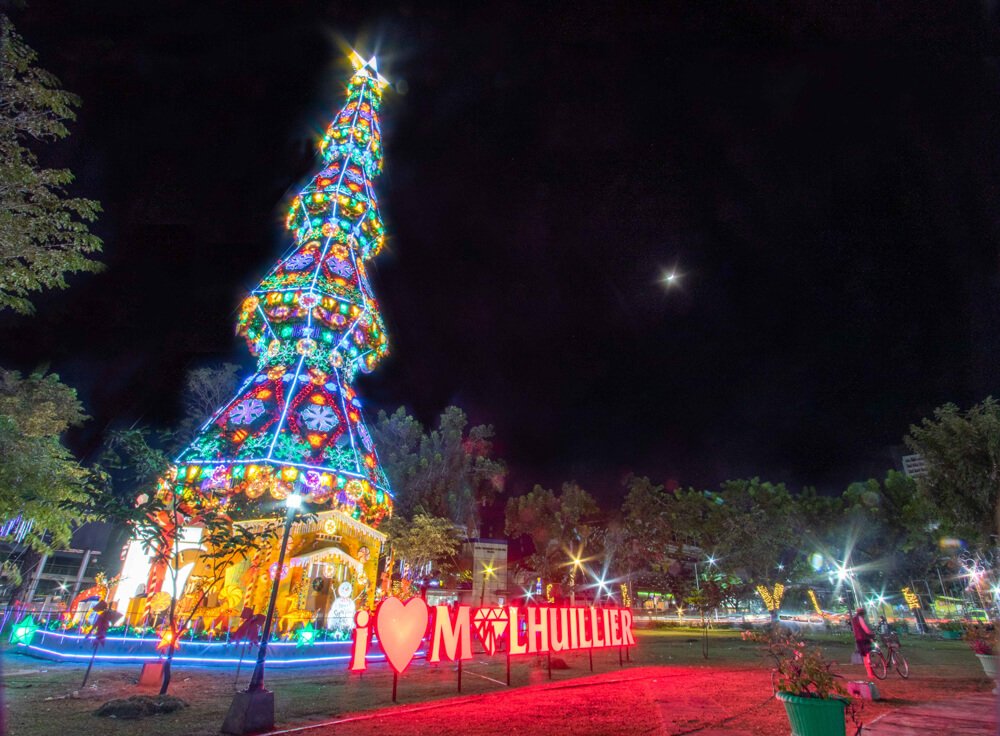 "It was in 2000 that I had this idea of giving back to Cebu. After all, this was where we started and became successful," says M Lhuillier Chairman of the Board Michel Lhuillier in a press statement.
"I wanted it to be a symbolic representation of M Lhuillier's commitment to give back to the people of Cebu who have continuously shown their support and loyalty to the company throughout its humble beginnings until now when it has become the country's largest and leading non-bank financial institution," He adds. Two decades later, the Tree of Hope still stands strong as an embodiment of generosity and compassion towards others.
This year, 26 Cebuano craftsmen headed by project leader Marvin Damaolao took the mantle of designing and decorating the longest-running holiday symbol of hope and positivity for the people of Cebu. "In the previous years, the theme centered around Sto. Niño and the Sinulog festival. And for good reason. After all, the patron saint of the city is the ultimate symbol of hope and faith," says Damaolao. He adds, "However, this year, we want to give this time-honored tradition a new and fresh feel, thus the Winter-themed tableau. Construction began on the 3rd week of September."
Standing tall and vibrant at Fuente Osmeña, the city's center, this iconic 10-story high steel structure is an eye-catching sight with its dazzling blue, white and green decor. The beautiful handmade decorations were a perfect mix of traditional and modern materials, each adding to the season's joy and wonder.
The various materials used for decorations include garland, 900 styrofoam balls, silver dust, styrofoam sheet, acrylic paint, plywood, and LED lights. Charol cloth (patent leather) was draped over parts of the frame, adding a touch of luxury, and 220 Christmas lights shone brightly with a comforting blue and white hue. Five hundred fifty parols sparkled overhead like little stars, while 310 Pampanga parols lent an extra touch of tradition and culture. Adding to the Yuletide cheer are two snowmen, two big replicas of Christmas socks, and an assortment of other festive holiday trimmings.
According to Damaolao, 700 shining bulbs light up the tree, each one representing the warmth and love that Filipinos have for one another. The large star on top of the tree symbolizes the unbreakable spirit of Filipinos, which continues to shine brightly despite difficulties.
"When Super Typhoon Odette devastated Cebu and its neighboring islands last year, the Tree of Hope became not just a symbol of hope but also a symbol of strength and resilience for Cebuanos," says M Lhuillier Chairman of the Board. He adds, "Even in such devastation and loss, the tree remained standing tall, reminding everyone that no matter how bleak things may seem, we have brighter hope ahead."
Like any other traditional holiday celebration, a giant lighted Christmas tree is an essential part of it. For M Lhuillier, what sets the Tree of Hope apart is that it stands as a symbol of hope illuminating the darkness brought about by times of difficulty. As such, it carries an even greater meaning than just being an eye candy during Christmastime, not just to Cebuanos but to all Filipinos. M Lhuillier further encourages everyone to look forward to brighter days ahead.