Centrally-located Marylebone is one of the poshest (to use the local terminology) neighborhoods in London, and that's saying something! This stylish area is a scenic and stylish area to explore, and an even better one to grab a bite in.
Marylebone boasts one of the best restaurant scenes of any London neighborhood, which explains why the place is overrun with local and traveling foodies on nights and weekends. While the options are endless, you'll want to know what the top spots are before planning your visit, especially for making a reservation. 
Here are the best restaurants in Marylebone:
Blandford Comptoir
Blending English and French comfort food with Mediterranean flavors and textures, this bistro is one of the most popular spots in the neighborhood. Brandford Comptoir is not only a superb restaurant, but it's also probably Marylebone's best wine bar.
With a Sommelier-curated list, the wine program has a massive list, and staff with encyclopedic knowledge to guide you to the right bottle.
The intimate setting is ideal for date night, but the counter has seating for a more social vibe.
Location: 1 Blandford St, London W1U 3DA, United Kingdom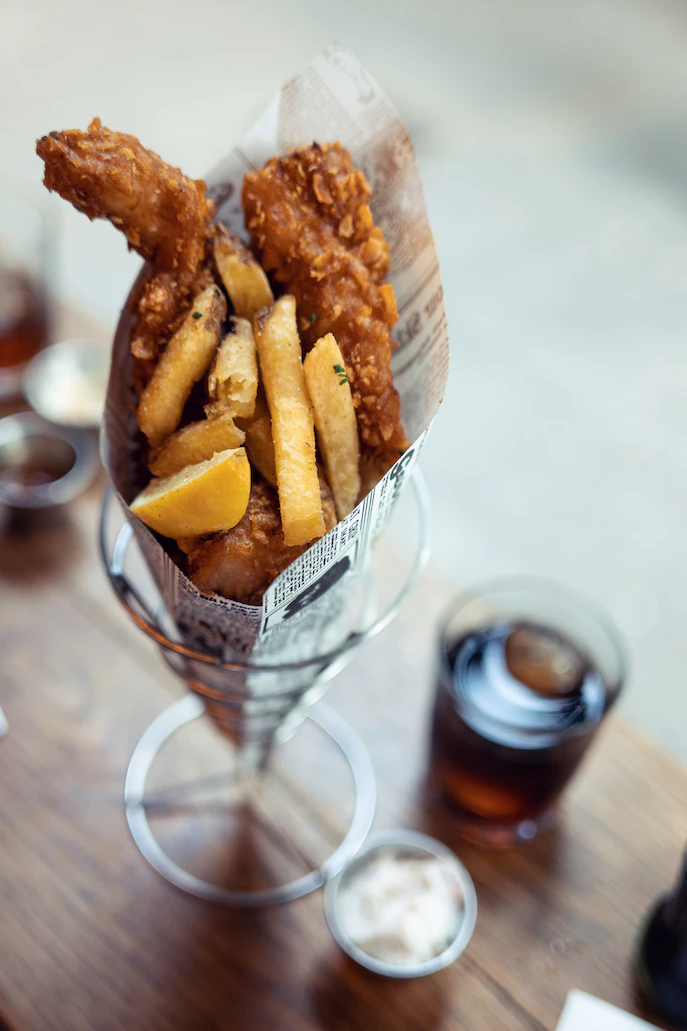 If you're traveling through London and you don't try fish and chips, you messed up. While you can grab this local delicacy just about anywhere, Marylebone's Golden Hind serves one of the best in the city, and that's saying something. This traditional pub has been frying and serving up superb fish and chips for over a century, so they know what they're doing.
While their flagship dish is essential, they have an amazing seafood menu filled with fresh salmon, fishcakes, and skate, all fried to crispy, flaky perfection. It's best to grab fish and chips, and then order one of their specials, especially if you're dining with someone. Finish the meal with their sticky toffee pudding!
Location:
Address: 71a, 73 Marylebone Ln, London W1U 2PN, United Kingdom
Ibérica Marylebone
Modeled after the delightful Andalusian bodegas found all over Spain, this lively eatery serves all the finest things in life. Superb jamón, a wide variety of cheeses, and an amazing wine list (including the best selection of sherries in London) all complement a small menu of traditional Spanish dishes.
This is a great spot for an afternoon snack of charcuterie and some wine, but you can go all in on some fresh seafood, or one of their piping-hot seasonal stews. Enjoyed the food? Stop at the deli next door to bring home a taste of Spain or set up an epic picnic. 
Location: 195 Great Portland St, London W1W 5PS, United Kingdom
KOL
There's no readymade explanation for why London has such a great Mexican food scene, but KOL is one of the best examples. Created by the legendary Noma team, this upscale restaurant seems primed for a Michelin Star. The menu's focus is on marrying English ingredients with Mexican flavors, and the results are fantastic.
Heirloom corn is used to make their homemade tortillas, which help KOL make some of the best tacos in England. Expect unexpected ingredient combinations and flavors in these delightful little handhelds, which should complement a shared entree for the full KOL experience. The impeccably-curated wine menu and cutting-edge ambiance make this an upscale and bespoke dining experience.
Location: Lower Ground Floor, 9 Seymour St, London W1H 7BA, United Kingdom
If you want to spend a billion dollars on wine and modern recreations of obscure traditional French dishes, this is your spot. Sure, some of the highfalutin culinary ideals that this Parisian bistro indulges in can be a little over the top, but the fact of the matter is that Les 110 de Taillevent is one of the best restaurants in London, and a worthy spot for that "treat yourself" occasion.
Location: 16 Cavendish Square, London W1G 9DD, United Kingdom
This new-age coffee shop is a hipster haven where every detail seems intended to perplex. For starters, there is no wifi, so hopefully, you'll have reading material. There's also a surprising (and delightful) Japanese angle to this quaint eatery.
For food, expect minimalistic but incredible katsu sandwiches (one even made with prawn) and excellent pastries on their rotating brunch and lunch menu. The third-wave coffee beans are roasted locally, and their expert baristas serve some of the best java in all of London.
Location: 18 Chiltern St, London W1U 7QA, United Kingdom
There's nothing better than a reliable neighborhood Indian restaurant, and Marylebone is spoiled with this two-floor eatery. The menu is exceptional, with moderately-priced curries and casual snacks that match the hip, social setting.
Roti Chai is a few minutes on foot from Oxford Street, so it's an awesome spot to grab lunch after an afternoon of shopping. It gets pretty busy with the commuter crowd, so plan ahead!
Location: 3 Portman Mews S, London W1H 6AS, United Kingdom
Fair warning: this one will break the bank. Marylebone has always been a posh neighborhood, with boutique-lined streets and stylish cocktail bars, so a high-end Indian restaurant fits perfectly. It's still a comfortable place to have dinner, but the exorbitant pricing makes Trishna a place for a special occasion (like a vacation) rather than a casual pop-in.
The menu rotates frequently, but expect upscale versions of familiar favorites along with some surprising Indian takes on dishes like lamb chops or Dorset crab.
Location: 15-17 Blandford St, London W1U 3DG, United Kingdom
With so many distinct areas and a world-class culinary scene, it's never easy to plan your foodie adventure through London. When you're looking at making reservations and researching lists, it can help to start by looking into the area. For the neighborhood surrounding Marylebone Station in Central London, there's a staggering number of options. Luckily, you've done your research. Now it's time to pick!