Home Credit Philippines (HCPH), the country's leading consumer finance company, partnered with ILO Esports, the only government-backed esports organization in the Philippines, for the United Iloilo Convention (UNICON 2022) – a gathering of e-games, toys, and cosplay enthusiasts in Western Visayas from October 29 to 30, 2022 at the SM City Iloilo Cyberzone.
UNICON 2022 featured a wide range of activities, including a toy convention, cosplay showcase, and e-games competition. Home Credit also set up an immersive and experiential where Ilonggos got to test top-of-the-line gadgets, played e-games with a live feed of the games on a massive LED screen, and tried out an augmented reality filter on Instagram.
Anchored on its #PlayLikeAPro campaign, Home Credit was able to showcase the best gaming smartphones, computers, and laptops, which can be purchased through its partner merchants in Iloilo City, such as Gadget Headz and Concept Computer Store.
"We at Home Credit wanted to bring home the power to Ilonggos for UNICON 2022 as part of our thrust to grow and nurture our communities across the Philippines. Esports has become a big community, and a big chunk of our customers get their smartphones and laptops through Home Credit, not only for online schooling or work but likewise for gaming," shared Home Credit Philippines' PR Manager, Russel Patina.
The UNICON 2022 was a weekend-long event that brought together the esports fever, with activities such as art and magic exhibits and video game duels like Tekken. A Yu-Gi-Oh! event, a cosplay parade, and a tournament took place during the second day of the event.
"I would like to thank Home Credit for helping us organize this year's UNICON. We wish and we aim that through this event, we're able to unite the Ilonggos through games, cosplay, and collections," shared ILO Esports' Found and CEO, Jamar Montehermoso.
With its growing popularity, esports has become one of the most talked-about topics in the country. What was once a niche hobby has now evolved into a major sporting event, with pro teams being organized and sent out to represent the country in international competitions.
Angel Danica Lozada, aka Angelailaila, a League of Legends: Wild Rift player and former SEA Games representative, expressed her appreciation to Home Credit for holding the event and paving the way for gaming athletes and enthusiasts, as well as for promoting esports to the Ilonggo community.
"Through Home Credit and ILO Esports, I hope that more and more Filipino youth and Ilonggos will be encouraged to play and build an empowering esports community with us here in the Philippines. Like Home Credit, let's bring the power and play like a pro," shared Lozada.
Your gaming essentials at 0% Interest this holiday season!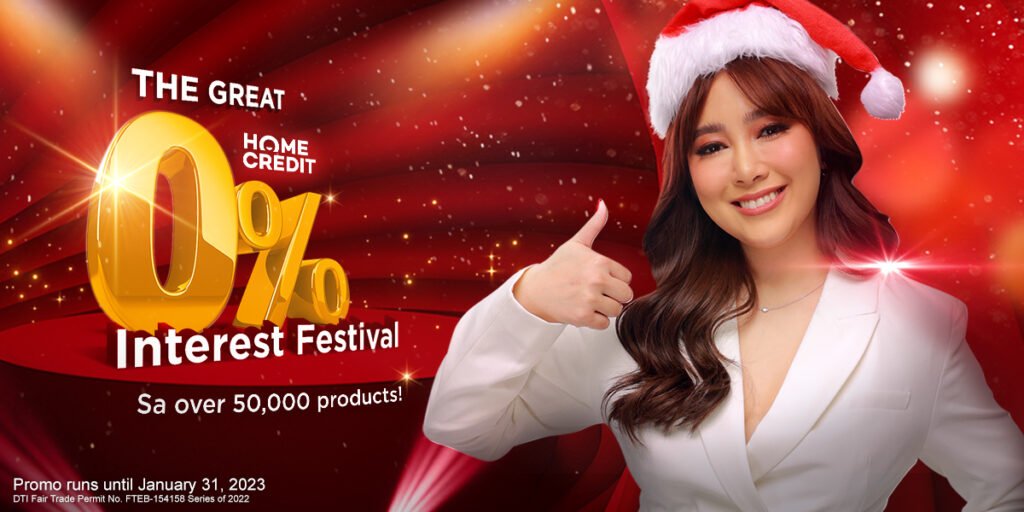 As a holiday treat for Filipino customers, Home Credit launches The Great 0% Interest Festival with over 50,000 products offered at 0% interest rates at almost 10,000 partner stores nationwide.
Grab the latest gaming computers, laptops, and mobile phones at 0% installments and bring home the power with Home Credit Philippines #HCGreatZeroFestival this holiday season!
What are you waiting for? Shop now via the My Home Credit app and visit its partner brands and retail stores near you. Shoppers can now experience The Great 0% Interest Festival and make the most affordable purchases until January 31!
Home Credit Philippines is a financing company duly licensed and supervised by the Securities and Exchange Commission (SEC) and by the Bangko Sentral ng Pilipinas (BSP).
To learn more about the latest updates from Home Credit Philippines, visit its official website www.homecredit.ph. You may also follow its official Facebook, Instagram, and TikTok accounts. Customers are encouraged to download the My Home Credit app on Google Play to know more about the latest promos and see what is new in the Marketplace.