Epson, the global technology leader in innovative and sustainable solutions, shared significant market updates and business frameworks, an exciting new lineup of product releases, and its plans to take its sustainability efforts and initiatives a step further in the country at its recently concluded Fusion, the 14th iteration of the company's annual media event.
"Epson's goal has always been to create groundbreaking innovations that revolutionize the way its customers operate," said Epson Philippines President Masako Kusama, who welcomed the guests before the business session proper. "Across various sectors and industries, the company leverages its efficient, compact, and precise innovations to effect positive and meaningful change that extends beyond just the workplace, but to the rest of the world."
Emphasizing Epson's commitment to sustainability, Kusama shared the company's green initiatives in the past year such as its Food Shed project in Tarlac which provides a sustainable food production to local communities, its Mangrove Restoration Project in Palawan with WWF-Philippines, and the recently launched global campaign #MakeTheSwitch that promotes energy conservation.
Epson Philippines' president also shared the company's plans for the year as it celebrates its 25th anniversary in the country. "Our silver anniversary will be marked with projects that include meaningful partnerships with private organizations and government agencies, and more CSR and environmental initiatives within our communities," said Kusama. "Epson Philippines, together with our partners, is on a journey towards our goal of a circular economy."
Driving ambition and development in business operations
Epson Philippines Marketing Division Head Eduardo Bonoan officially opened the session with a report on the company's year-over-year growth and business drivers for 2023.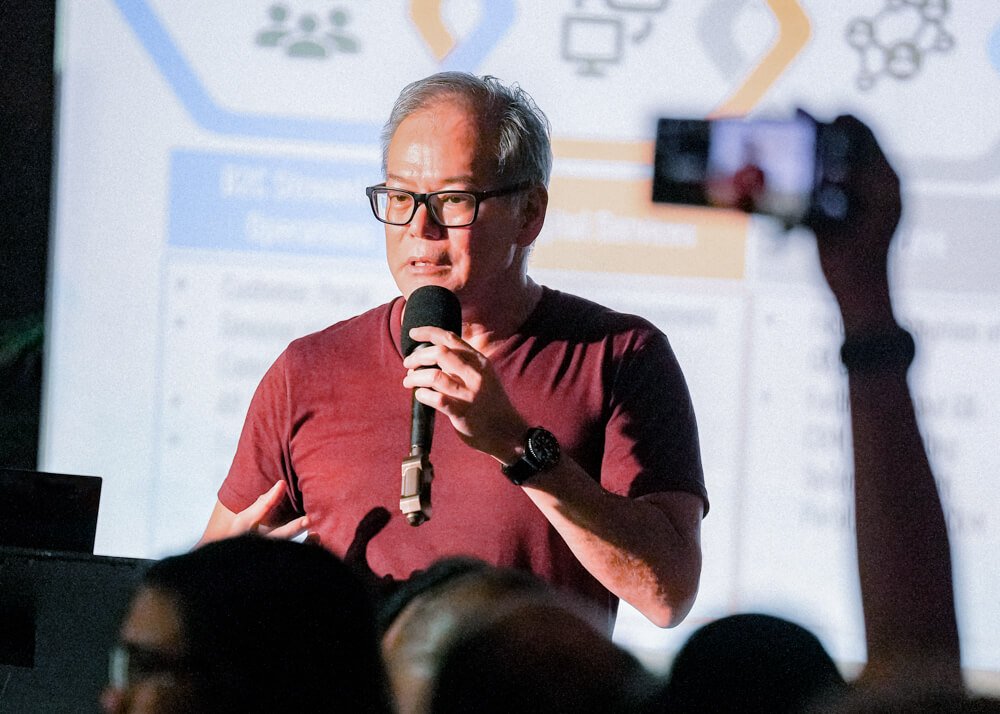 The past year has proven to be a year of growth and business development for Epson Philippines. The company has seen 8% year-over-year growth for 2022, owing much of its market share growth to its CAD, projectors, scanners, and signage. Its continuous ink supply system (CISS) products also drove revenue and sales for the company, with a 3% year-over-year growth in 2022.
"Epson is aiming even higher for 2023. The company is focused on driving B2B transformation by leveraging on digital and streamlining operations," said Bonoan. He added that Epson Philippines is committed to focusing more on its B2B products and increasing its year-over-year growth to 12% in 2023.
Introducing innovations to boost growth in 2023
Renan Lacson, Senior Manager for Product Management, reported that Epson remains on top in terms of market share. From the data provided by the International Data Corporation (IDC), Epson continued to dominate the market across various product categories in 2022, with 51% market share for inkjet printers, 67% for ColorWorks printers, 36% for CAD, and 83% for photo printers. Epson also emerged as no.1 in POS printers, textile printers, scanners, and high brightness projectors.
According to Lacson, Epson's product lineup for 2023 includes a mix of B2B and B2C products such as: the SurePress industrial printer range that features both a water-based inkjet digital label press and a digital UV label press; large format printers and new dye sublimation printers as seen in the new SureColor R-Series; business inkjet printers; and home and office smart projectors that boast of high image quality.
"While these new releases target different needs, markets, and users, they all guarantee consistent, high-quality, and high-speed products while ensuring reliability, flexibility, and performance—all without compromising Epson's commitment to sustainability," said Lacson.
Taking sustainable operations to the next level in the Philippines
A common denominator of all of Epson's initiatives is its focus on sustainability, which is embedded in product and packaging design, as well as supplemented by actions being undertaken by the company.
As the final speaker of the business session, Epson Philippines Senior Manager of the Vertical Business Department Noelle Gonzalez underscored the company's efforts to drive sustainable operations in the Philippines.
Guided by its global aspirations, Epson will contribute to achieving a better future as envisioned in the United Nations Sustainable Development Goals (SDGs). In the Philippines, Epson kickstarted its sustainable adoption by implementing three key actions in response to its priority SDGs.
For Industry, Innovation, and Infrastructure, Epson will promote its sustainable products, services, and practices. Meanwhile, for Responsible Consumption and Production, Epson will help reduce waste from its own products in the Philippine market by participating in the Department of Environment and Natural Resources' Extended Producers Responsibility Act, and by partnering with recyclers and other non-governmental organizations who are focused on reducing plastic and packaging recycling. Lastly, for Partnership for the Goals, Epson will increase its network and invest in more partnerships to promote sustainability across wider audiences and to further solidify the company as a thought leader in sustainability in tech.
"We need a collective mindset shift on par with the one that gave birth to recycling decades ago. It is time we embrace the idea of a circular economy," said Kusama. "Epson Philippines commits to working hand in hand with our partners, urging everyone to embrace circularity. While we have been actively working towards a sustainable and circular future, today, we ask you to join in on our mission. Let us navigate this journey together towards a greener future."