ASUS today announced its new class of 16-inch devices designed for everyday content creation, productivity, and entertainment consumption. The Vivobook Pro 16 OLED (K6602), Vivobook 16X (M1603), and Vivobook 16 (X1605) are feature-packed multiuse laptops that offer stunning displays with larger screen real estate. Perfect for on-the-go use, these new Vivobook laptops are built with a slim and compact form factor with a sleek bezel-less design giving the user a bigger workspace to multitask efficiently anytime and anywhere. Bigger and better this time, the 16-inch Vivobook laptops promise users enhanced and detailed visuals perfect for content creation, a larger screen size to work on your spreadsheets and school presentations, and an amplified entertainment or gaming experience all in one compact device.
Professional-grade creativity and productivity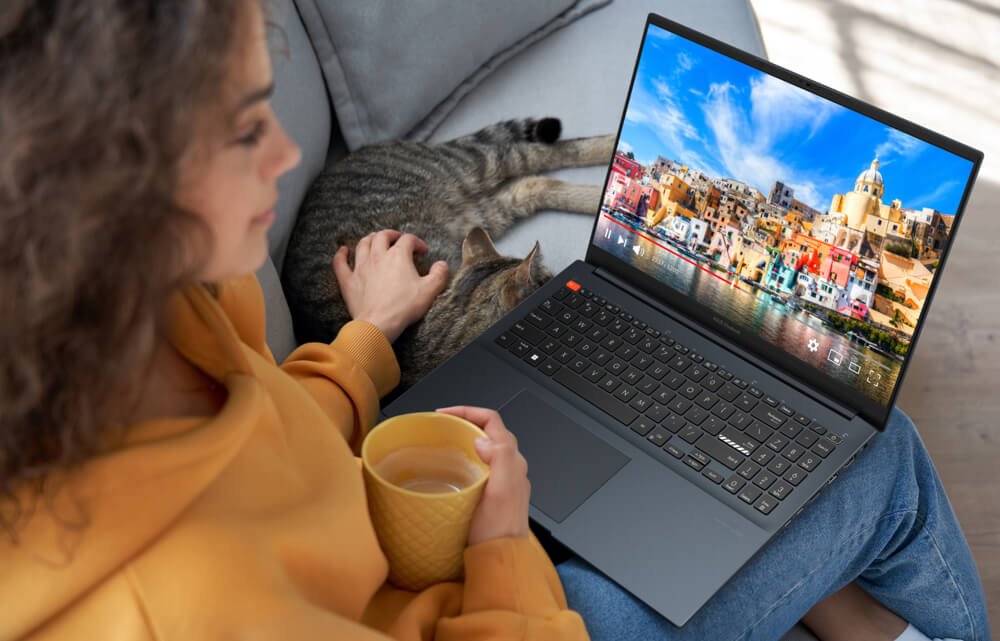 Create and multitask like a pro with ASUS Vivobook Pro 16 OLED's (K6602) world-leading 3.2K 120Hz 16:10 OLED display. Explore the marvel of a 16-inch real estate and see every minute detail of a masterpiece or a spreadsheet. Vivobook Pro 16 OLED's display is PANTONE Validated, which delivers a superb high-quality visual experience with a cinema-grade 100% DCI-P3 color gamut. It is DisplayHDR True Black 600 certified for ultra-realistic images with a 600-nit peak brightness.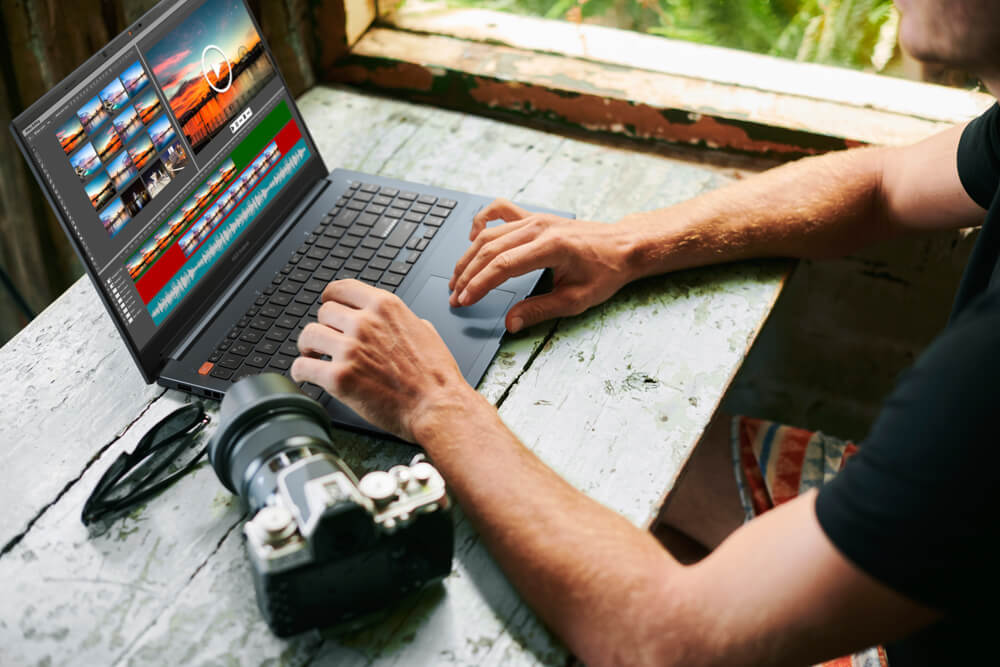 At the core of effortless content creation is performance, and the powerful components in Vivobook Pro 16 OLED make creativity easy and fun for YouTubers, TikTokers, podcasters, vloggers, musicians, artists — in fact, anyone who needs to create. Users requiring a quick boost for a tough task can simply switch to Performance mode to unleash the maximum 90 W TDP from the up to 12th Generation Intel Core i7-12700H CPU and 16 GB RAM, with no throttling thanks to the dual-fan, triple-vented ASUS IceCool Plus cooling system. The up to 1 TB PCIe SSD provides plenty of ultrafast storage for every project and loads clips or draft ideas in the blink of an eye. The studio-grade of up to NVIDIA GeForce RTX 3050 Ti GPU also lets the user's visual creativity flow as smoothly as ever and can easily handle gaming or entertainment tasks.
Experience audiovisual heaven with the MUX switch in the Vivobook Pro 16 OLED. Creators can enjoy maximum low-latency graphics performance when gaming. Entertainment is also enhanced by immersive, multi-dimensional Dolby Atmos audio via the Harman Kardon-certified speaker system.
Easily connect all the latest peripherals, displays, or projectors. There's an ultrafast Thunderbolt 4 port that supports fast charging and up to 40 Gbps data transfers; a USB 3.2 Gen 2 Type-C port; an HDMI 2.1 port that supports up to a 4K external monitor; an RJ-45 LAN port that provides added flexibility for high-speed wired network connections; and a MicroSD card reader that allows fast and easy data exchange.
To complete every creator's wish list, ASUS Vivobook Pro 16 OLED comes with a free three-month subscription to Adobe Creative Cloud. For more details about this partnership, check https://ph.asus.click/AdobeCreativeCloud.
Graphika Manila 2023
Witness and experience ASUS' latest Creator Series in 16-inch displays, including the Vivobook Pro 16 OLED (K6602) along with the innovative Zenbook Pro 16X OLED (UX7602), Vivobook Pro 16X OLED (N7601), and ProArt Studiobook Pro 16 OLED (W7600) at the Graphika Manila 2023 on February 11-12 at SMX Convention Center, Mall of Asia, Pasay City. Catch ASUS' Creator ambassadors Visual Artist and Illustrator Kevin Eric Raymundo (also known as Tarantadong Kalbo), and Visual Storyteller and Wedding Videographer Jason Magbanua as they share their inspiring creative journey with ASUS as their reliable partner device.
Classic Vivobook, next-level features
Explore a fresh new vision with ASUS' latest Classic Vivobook laptops. The ASUS Vivobook 16X (M1603) and ASUS Vivobook 16 (X1605) feature an LCD wide-view NanoEdge display and have TÜV Rheinland low blue-light certification to ensure eye comfort during lengthy viewing sessions. Ideal for smart practical users, next-level productivity is guaranteed thanks to the large workspace a 16-inch laptop can only offer. Tick off everything on that to-do list quickly, as these Classic Vivobook laptops come with a free lifetime license to Office 2021 Home & Student.
Achieve a next-level performance as these Classic Vivobook laptops come in the latest AMD and Intel processors. Vivobook 16X comes with up to AMD Ryzen 7 5800H Mobile Processor, and Vivobook 16 features an up to 12th Generation Intel Core i7-1255U CPU. The 8 GB of DDR4 RAM and an ultrafast 512 GB PCIe SSD on both models make every task effortless, whether it's streaming, browsing, editing, video chatting, or just taking care of business at home. Vivobook 16X has additional RAM slots for future-proofing.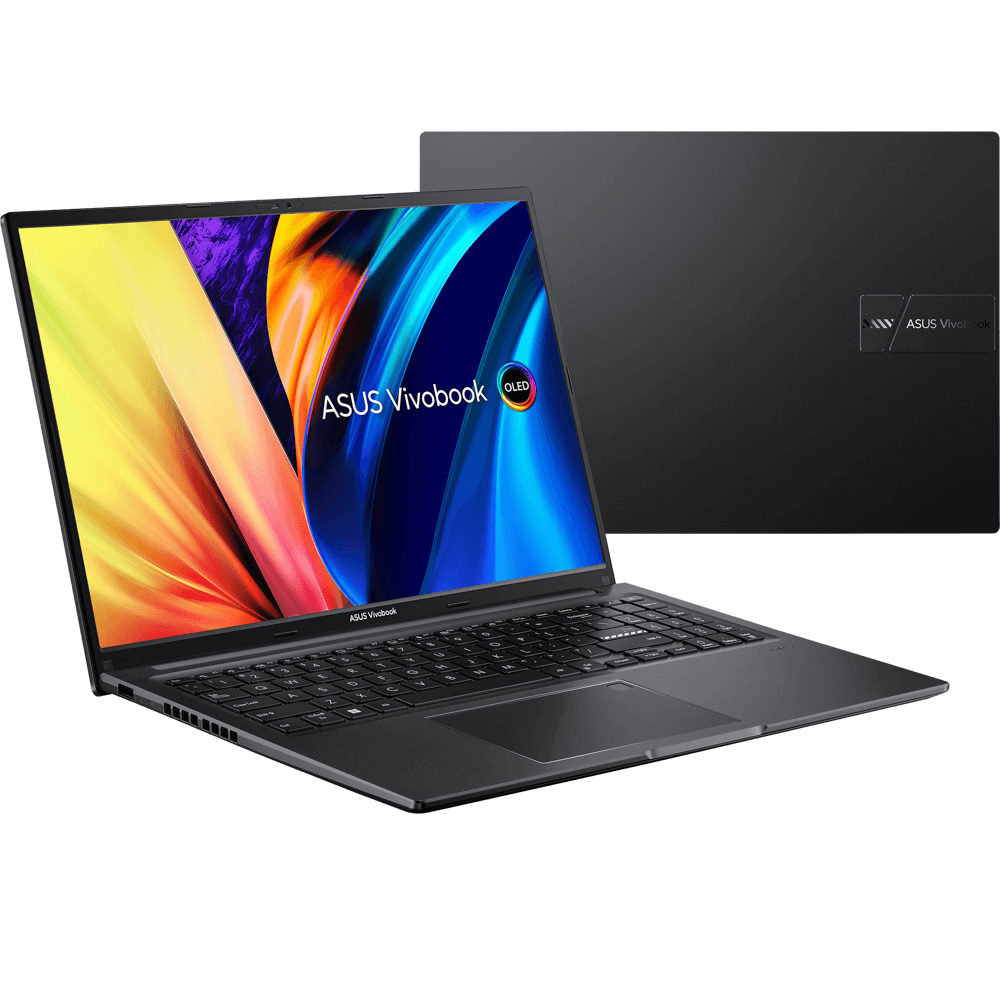 Built-in a youth-friendly and compact design, Vivobook 16 features precision-engineered, lay-flat 180° hinges that make it easy to share content with others or fun to collaborate with workmates and classmates around a table. With a full set of I/O ports, connecting existing peripherals, displays, and projectors is a cinch. There's a USB-C 3.2 Gen 1 port, two USB 3.2 Gen 1 Type-A ports, a USB 2.0 port, HDMI output, and an audio combo jack.
To ensure maximum performance and keep Vivobook Classic series laptops cool in all situations, the ASUS IceCool cooling system uses upgraded 8 mm and 6 mm dual heat pipes and an IceBlade fan that efficiently accelerates heat transfer.
To safeguard users' health and reduce the spread of harmful bacteria, frequently touched surfaces on Vivobook Classic series laptops are treated with ASUS Antibacterial Guard, which is scientifically proven to inhibit the growth of bacteria by more than 99% over a 24-hour period.
Availability and Pricing
All the Vivobook 16-inch series come with a free lifetime license to Office 2021 Home & Student and Platinum Protection Warranty​. ASUS Vivobook Pro 16 OLED retails at a starting price of PHP 82,995.00, ASUS Vivobook 16X at a starting price of PHP 37,995.00, and ASUS Vivobook 16 at a starting price of PHP 33,995.00. Check out these laptops in ASUS Concept Stores and authorized resellers today. Here is the complete list of where to buy https://ph.asus.click/PRWTB. Users can also score them with up to 18 months of 0% installment via Home Credit.
Eyeing that particular ASUS Creator Series laptop? Score up to PHP7,000 worth of discount on select ASUS Vivobook Pro and Zenbook Pro laptops on the ASUS Official Stores in Shopee and Lazada starting February 10-19, 2023.
SPECIFICATIONS
Variant
Color
Specs
SRP
ASUS Vivobook Pro 16 OLED (K6602)
K6602ZE-MX078WS
Quiet Blue
16.0-inch 3.2K OLED 16:10 120Hz / Intel® Core™ i7-12700H Processor / 16GB DDR4 / 1TB PCIe® 3.0 SSD / NVIDIA® GeForce® RTX™ 3050 Ti / Windows 11 Home / Office Home and Student 2021 included
PHP 104,995
K6602ZE-MX018WS
Quiet Blue
16.0-inch 3.2K OLED 16:10 120Hz / Intel® Core™ i5-12450H Processor / 16GB DDR4 / 1TB PCIe® 3.0 SSD / NVIDIA® GeForce® RTX™ 3050 Ti / Windows 11 Home / Office Home and Student 2021 included
PHP 89,995
K6602ZC-MX026WS
Quiet Blue
16.0-inch 3.2K OLED 16:10 120Hz / Intel® Core™ i5-12450H Processor / 16GB DDR4 / 512GB PCIe® 3.0 SSD / NVIDIA® GeForce® RTX™ 3050 / Windows 11 Home / Office Home and Student 2021 included
PHP 82,995
ASUS Vivobook 16X OLED (M1603)
M1603QA-MB141WS
Quiet Blue
16.0-inch WUXGA 16:10 IPS / AMD Ryzen™ 7 5800H Mobile Processor / 8GB DDR4 / 512GB PCIE® 3.0 SSD / Windows 11 Home / Office Home and Student 2021 included
PHP 49,995
M1603QA-MB230WS
Quiet Blue
16.0-inch WUXGA 16:10 IPS / AMD Ryzen™ 5-5600H Mobile Processor / 8GB DDR4 / 512GB PCIE® 3.0 SSD / Windows 11 Home / Office Home and Student 2021 included
PHP 37,995
ASUS Vivobook 16 (X1605)
X1605ZA-MB068WS / X1605ZA-MB067WS
Black / Silver
16.0-inch WUXGA 16:10 IPS / Intel® Core™ i7-1255U Processor / 8GB DDR4 / 512GB PCIE® 3.0 SSD / Windows 11 Home / Office Home and Student 2021 included
PHP 54,995
X1605ZA-MB065WS / X1605ZA-MB066WS
Black / Silver
16.0-inch WUXGA 16:10 IPS / Intel® Core™ i5-1235U Processor / 8GB DDR4 / 512GB PCIE® 3.0 SSD / Windows 11 Home / Office Home and Student 2021 included
PHP 44,995
X1605ZA-MB095WS
Black
16.0-inch WUXGA 16:10 IPS / Intel® Core™ i3-1215U Processor / 8GB DDR4 / 512GB PCIE® 3.0 SSD / Windows 11 Home / Office Home and Student 2021 included
PHP 38,995
X1605EA-MB082W
Black
16.0-inch WUXGA 16:10 IPS / Intel® Core™ i3-1115G4 Processor / 8GB DDR4 / 512GB PCIE® 3.0 SSD / Windows 11 Home
PHP 33,995