If you're looking to improve how you manage your finances, having the right tools can make a big difference in simplifying your experience. Knowing good money "hacks" can help you save on fees and maximize rewards.
Maya, the country's #1 digital bank app, combines the best payments, savings, credit, and crypto in one seamless experience, simplifying money management. It's also known as the most rewarding finance app, offering cashback and one of the highest interest rates for your savings.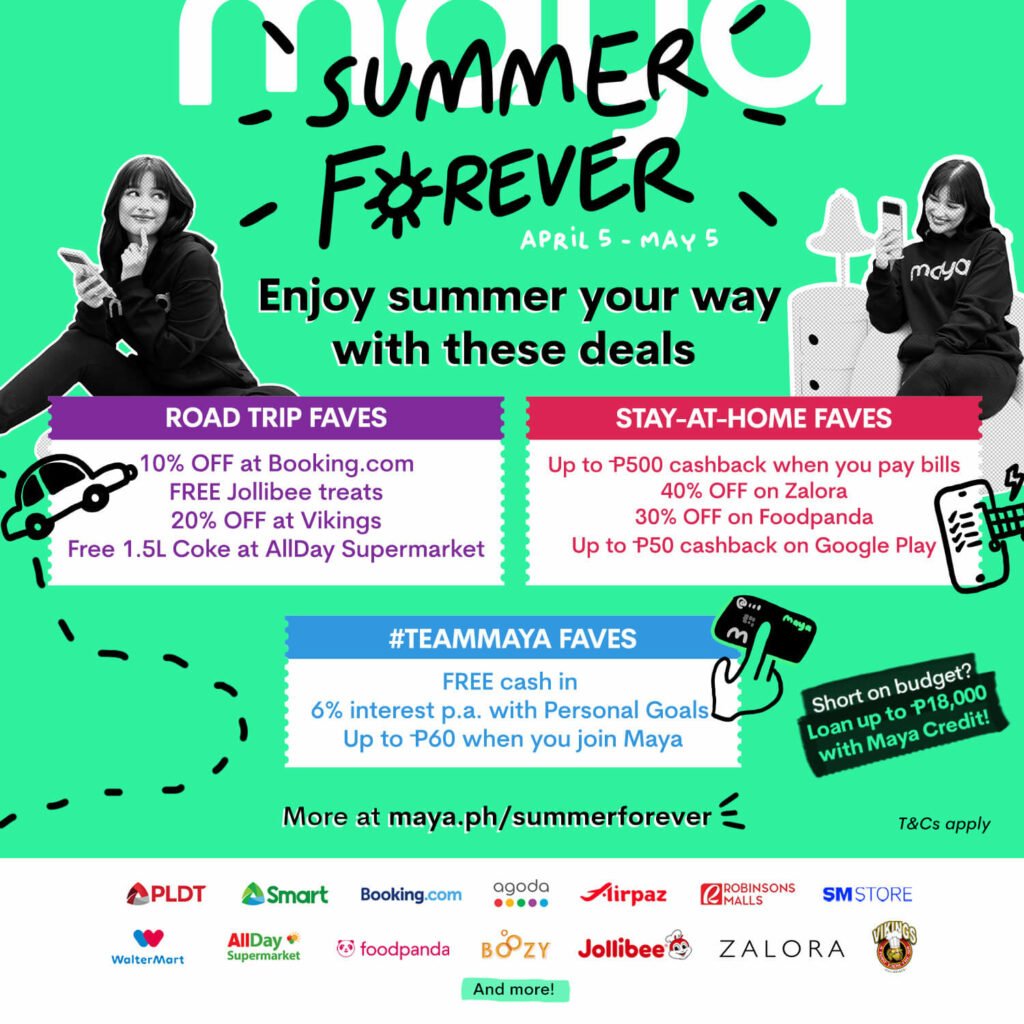 Here are four tips featuring exclusive Maya promos for you to take advantage of this April:
Build up your savings. Remember: you can always grow your money. You don't need significant cash on hand to start saving. Maya offers the best-in-class savings account with daily interest crediting at 4% p.a., one of the highest in the industry. And you can boost your savings by up to 10% p.a. just by using Maya for your daily payment transactions. The boosted rate of up to 10% p.a. applies to deposits up to P100,000.
Get huge savings now – spend up to P30,000 using Maya to see your Maya Savings interest skyrocket up to 10%. This promotional rate runs until May 31.
Spend smarter. Good money management means spending smartly. And when you pay using Maya, your spending smarter as it's more convenient and rewarding. Check out these wide-ranging deals this April:
Are you ordering food online? Use the code MAYANEW30 on the foodpanda app to get 30% off (up to P100 discount) using your Maya card. Open to new foodpanda users only. Promo runs until April 30, 2023 only!
Get 5% cashback (up to P50) when you purchase apps or in-app subscriptions worth P500 on Google Play and checkout with Maya until May 5, 2023. One-time availment only.
Shop and spend at least P3,000 on ZALORA to get 40% OFF when you pay with Maya. Simply input the code 'PAYWITHMAYA' upon checkout. Promo runs from April 29 to May 9, 2023!
Game on and save up to P45 when you enter the promo codes "MAYAML30"/ "MAYAML15" on Codashop and checkout with Maya. Top up from April 28 – May 29 to avail of the offer.
Shop for your family's essentials on Edamama and get up to P1,450 off when you checkout with Maya. Promo is valid until August 31, 2023
Grab all your summer favorites on Pick.A.Roo and save up to P300 when you checkout with Maya. Promo is valid until May 21, 2023.
Buy a gift for your mom on Mother's Day like the queen she is and save up to P1,450 on FlowerStore.ph! The sale starts from April 24 to May 14:

Product Exclusive Discount: Get P500 OFF + FREE Shipping on Chocolate Love when you pay with Maya! Use the code "MAYAEXCLUSIVE".
App-Exclusive Discount: Get 25% OFF + FREE Shipping when you purchase on Flowerstore APP using checkout with Maya! Use the code "MAYAAPPMOM". Reward capped at P250.
Website Only: Get 20% OFF + FREE Shipping when you purchase on the Flowerstore site using checkout with Maya! Use the code "MAYAMOM". Reward capped at P150.

Get a chance to win a trip for 2 to Boracay when you scan to pay with Maya at least P1000 in any Mercury Drug Center branch until June 15, 2023.
Pay your bills on time. Settling your payables on time saves you penalties and unnecessary stress. The Maya app makes paying your bills on time even more convenient and rewarding. For instance, customers paying their PLDT bill in Maya for the first time can get up to a P500 cashback reward. Existing PLDT bills payer, meanwhile, can receive up to P200 cashback. Meanwhile, if you're settling a minimum of P5,000 Platinum Creditplus loan payment on Maya, you will get P80 cashback. This promo runs until May 15.
Level up with Maya. Maya helps unlock a better version of yourself—one who's in control of growing and mastering your money. Did you know that Maya users can get up to P120 when they sign up, upgrade their accounts, and transact for the first time?
Use your referral code and spread the word to get your friends and family to join Maya. Even better, you get P50 for everyone who signs up using your code, upgrades, and completes their first transaction.
Start improving your finances today with Maya and do banking your way. Maya's digital banking services are powered by Maya Bank, Inc., a digital bank supervised by the BSP. Deposits are insured by the Philippine Deposit Insurance Corporation (PDIC) for up to PHP500,000 per depositor. To learn more, visit https://www.maya.ph/deals.
Follow Maya at @mayaiseverything on Facebook, Instagram, YouTube, and TikTok and @mayaofficialph on Twitter.