Chevron Philippines Inc. (CPI), marketer of the Caltex brand of fuels and lubricants, and Batangas Land Company, Inc. (BLC) today signed a memorandum of understanding (MOU) to work towards a mutually satisfactory agreement for the renewal of CPI's lease in San Pascual, Batangas; Lapu-Lapu, Cebu; San Fernando (Poro), La Union; and Sasa, Davao City.
The MOU signing was held at the Grand Hyatt Hotel in Bonifacio Global City between CPI Country Chairman Billy Liu and BLC President Lilia Arce.
On hand to witness the event were National Development Company (NDC) General Manager Anton Mauricio, Department of Trade and Industry (DTI) Secretary Alfredo Pascual, Department of Energy (DOE) Secretary Raphael Lotilla, Batangas Governor Hermilando Mandanas, Office of Government Corporate Counsel Justice Rogelio Quevedo and U.S. Ambassador Mary Kay Carlson.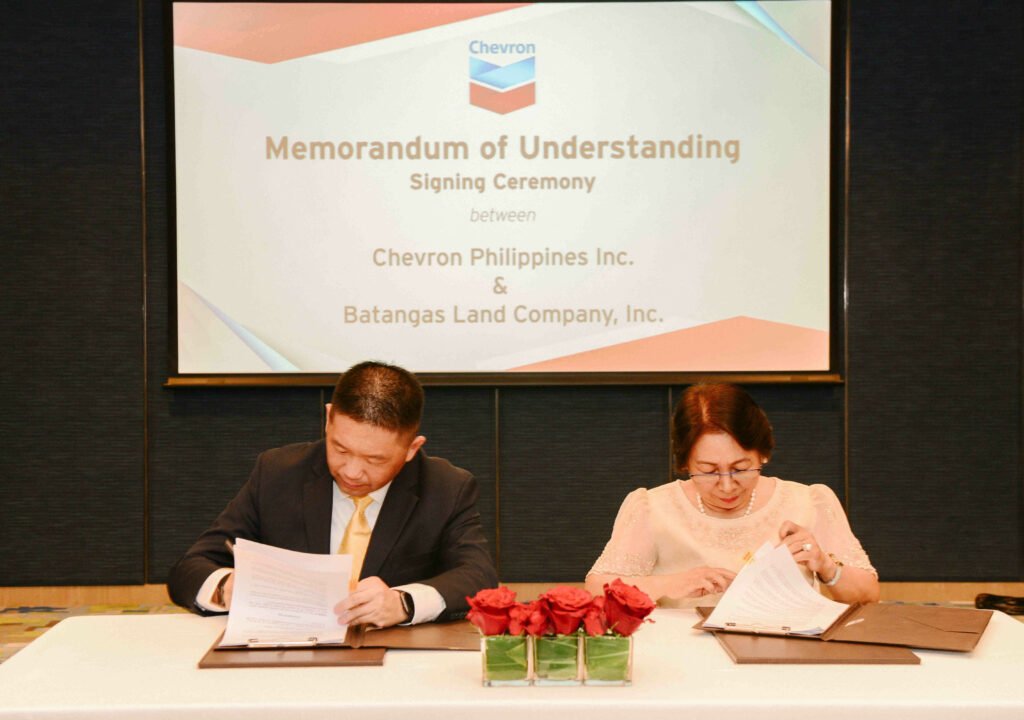 "This MOU between CPI and BLC underpins the intention of both parties to work towards a mutually satisfactory agreement for the renewal of CPI's lease. Our terminals form the core of a network of over 600 service stations and terminals that play a crucial role in supplying the fuel needs of the transportation, maritime, aviation, and power generation sectors in the Philippines," shared Billy Liu, CPI chairman.
BLC President Lilia Arce said, "Today is a momentous occasion that marks a continuous and longtime partnership. I'm glad we are signing this MOU because despite our differing interests [as], you, in the private sector, and we, in the government, have come together to strengthen our ties further and align our goals in the rebuilding of our nation's economy."
CPI intends to maintain significant investments on the leased premises consisting of energy infrastructure which are indispensable for the continued, safe, and environmentally sound operation of its terminals.
Aside from the Chevron Batangas Terminal, CPI's other major terminals service the fuel needs of major growth regions. The Lapu-Lapu Cebu Terminal provides fuel for Central Visayas. The Sasa Terminal in Davao services Mindanao while the Poro Terminal provides quality fuels to Northern Luzon.
DTI Sec. Fred Pascual said, "Chevron and BLC's partnership is a testament to continued investor confidence in the Philippines. It signifies the country's ability to provide a long-term enabling environment for the growth of global companies that chose to do business and stay in our country. Such collaboration is essential to fulfilling national objectives such as energy security. First, this will ensure Filipinos to have access to reliable, safe, and affordable energy. And second, this will attract investors to expand their operations in the Philippines."
The DOE, in a 2023 letter to the DTI, has favorably endorsed and supported CPI's continued use and operation of its terminals in these areas to ensure the stability, advancement, energy development objectives, and security interests of the country which are all critical for the economic growth and development of the Philippines.
DOE Secretary Raphael Lotilla said, "Chevron's presence over the many years in the Philippines is one that I see as a seal of good housekeeping. We have supported this step and I hope this will encourage Chevron to actually increase its footprint in the Philippines. Our demographics show that the country continues to grow and that I expect Chevron will grow fully with us."
As one of the oldest and biggest investors in the country with over 100 years of continued presence, Chevron markets Caltex fuels, lubricants, and other petroleum products in the Philippines.
Batangas Governor Hermilando Mandanas remembers, "It was my grandfather who was the mayor of the town where the Caltex refinery was started way back in the mid 50s. I remember that I was participating as an elementary school student in all the civic and social contribution programs of Caltex at the time. I congratulate the DTI, NDC, BLC, and Chevron in continuing this tradition of cooperation and working together on something that is very much needed by the country especially right now."
The protected coastline of the Chevron Batangas terminal has been declared a sea-turtle sanctuary by the Department of Environment and Naturals Resources with the annual Olive-Ridley sea turtle nesting. CPI is also actively pursuing social investment projects in its host communities with initiatives ranging from the environment, education, livelihood, and health, to safety.
With the government's drive for more private-public partnerships, Justice Rogelio Quevedo commented, "I'm very happy to witness this ceremony to show the continuing commitment of the US businesses in the Philippines. I look forward to the thrust of this administration to encourage more private public partnerships, we will be seeing more American businesses renew their commitment to the Philippines economy. I hope that the Office of Government Corporate Counsel will be having more ceremonies like this and the approval of the contracts, especially, in private-public partnerships."
With Chevron being one of the oldest and biggest American investors in the country, US Ambassador MaryKay Carlson relayed the US support for the MOU signing. "It truly is a celebration of two companies coming together and, as you say two nations. We are excited to grow with the Philippines. We are excited to be partners in the prosperity of both of our nations and this is a great example today," commented Amb. Carlson.
"This MOU signing is a great follow-on event to President Marcos' visit to the United States recently. It's a very exciting time to be part of the Philippine-US partnership. President Biden announced that he will dispatch, a first of its kind, presidential trade investment mission to the Philippines, and next year Manila will host the 2024 Indo-Pacific Business Forum. These are two other examples of the way that we are growing with the Philippines and being partners in prosperity. I look forward to joining you in a similar ceremony when Chevron and BLC sign the leases," added Carlson.
Currently, Chevron operates through two subsidiaries in the Philippines. Aside from CPI, Chevron Holdings Inc. (CHI) supports the company's global business through back-office processes such as finance, human resources, information technology, downstream shared services, and procurement.