Investing with confidence in uncertain times: ATRAM's latest app offers a more stable solution that lets you earn up to 6% p.a.* without breaking a sweat. As local and global markets fluctuate, ATRAM Prime offers a rock amidst the storm through stable, government-backed Retail Treasury Bonds—now available on the mobile app.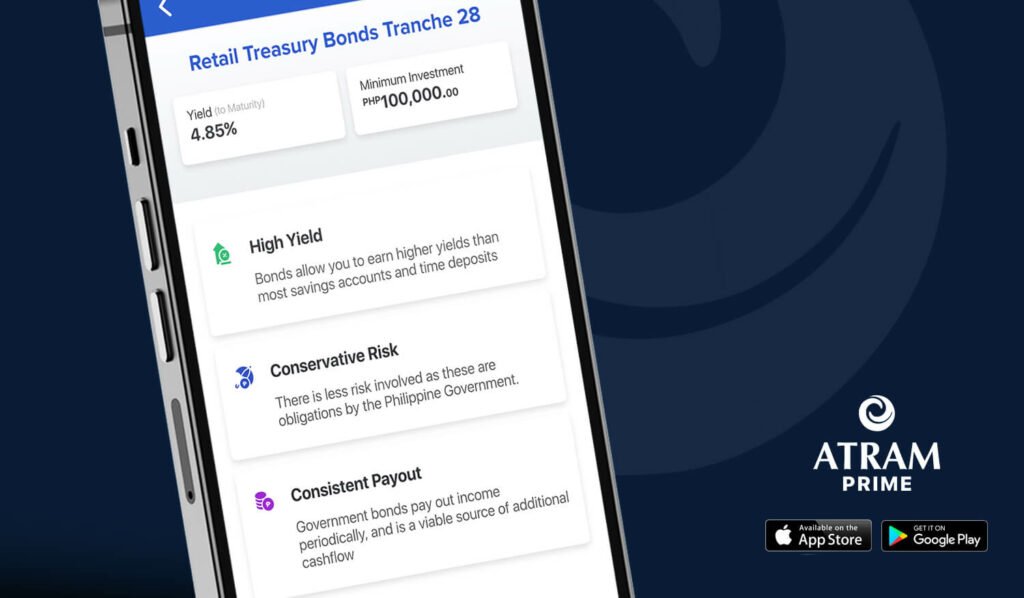 What is the ATRAM Prime App?
The ATRAM Prime app is the latest investment platform developed by ATRAM, the largest independent asset management company in the Philippines with over 100+ years of collective investment experience. The app's user-friendly design allows investors to enjoy simpler, smarter, and more sophisticated investing on a purely digital platform that maximizes convenience and minimizes stress.
Investors can browse through an extensive, award-winning product suite that includes Retail Treasury Bonds (RTBs), expertly managed local and global funds, and more. At ATRAM Prime, professional fund managers do the heavy lifting to provide a premium selection of options that helps save your time.
A Deeper Dive into Retail Treasury Bonds — ATRAM Prime's Latest Product
Retail Treasury Bonds are fixed-income, medium- to long-term debt securities issued by the Republic of the Philippines through the Bureau of Treasury. When an investor buys an RTB, they essentially lend the government some cash for its activities. The Philippine government then promises to pay the full amount back to the investor on top of a regularly paid interest.
Bonds, especially those backed by the government, are naturally low-risk investment options that offer people a consistent and guaranteed payout. These bonds offer higher returns versus the regular rates of a typical savings account. Plus, there are no fees or charges for buying or selling RTBs on ATRAM Prime at the moment!
"We remain constructive on Philippine fixed income and maintain the view that inflation is likely to decelerate over the coming months – making current levels attractive from a longer-term standpoint"- Miguel Liboro, Head – Local Markets, ATRAM Asset and Wealth Management
The outlook on fixed-income securities like RTBs remains positive and possibly even more attractive to investors looking for reliable long-term investment options that can help diversify their portfolios, especially during times of market volatility.
ATRAM Prime Makes Investing Simpler, Smarter, and More Sophisticated
The ATRAM Prime app offers people a smooth, convenient, and investor-first experience through a mobile app. Opening up a personal investment management account through the app can take as little as 8 minutes thanks to a purely digital process, which includes a liveness check and hassle-free scanning of IDs.
From there, investors can browse through a selection of expertly managed global and local funds, as well as RTBs, and more. Managing your portfolio can be done through the app without having to make several calls to brokers or banks.
Taking service to the next level, ATRAM Prime also connects investors to a dedicated Client Advisor, who is ready to assist at any point in the investment journey. No need to set up a face-to-face meeting as all communication can be done online.
How to Start Investing in RTBs through ATRAM Prime
Interested investors can get started on ATRAM Prime even before they leave the house for work. Here's how you can start investing in RTBs through the app:
Step 1: Download the ATRAM Prime App on the App Store or Google Play Store
Step 2: Complete the registration process (which can take as little as 8 minutes)
Step 3: Browse through the library of investments and select the appropriate Retail Treasury Bond option that fits your investment goals
Step 4: Choose how much you want to invest and start earning potential returns of up to 6% p.a.
Investing becomes less of a challenge and more rewarding with ATRAM Prime. Retail Treasury Bonds, which can help investors earn up to 6% p.a., can now be purchased with just a few taps and no extra paperwork. The app focuses on helping investors enjoy their returns without having to stress too much on the processes.
ATRAM's latest platform opens more doors for Filipino investors and continues innovating to help more people reach their financial goals. Download the ATRAM Prime App on the App Store or Google Play today to get started on a simpler and smarter investment journey.
*DISCLAIMER: The above should not be taken as professional advice to invest in retail treasury bonds. It should not be used as the sole basis to measure returns in said securities. Terms and conditions of the retail treasury bonds are governed by the applicable Program Mechanics and Notice of Offering issued for the purpose. Indicative YTM displayed is still subject to 20% final withholding tax. All orders will be executed by an SEC-licensed broker. Investing in Retail Treasury Bonds does not provide guaranteed returns. The value of your investment is not guaranteed or insured by the Philippine Deposit Insurance Corporation (PDIC) or by any other public or private entity.